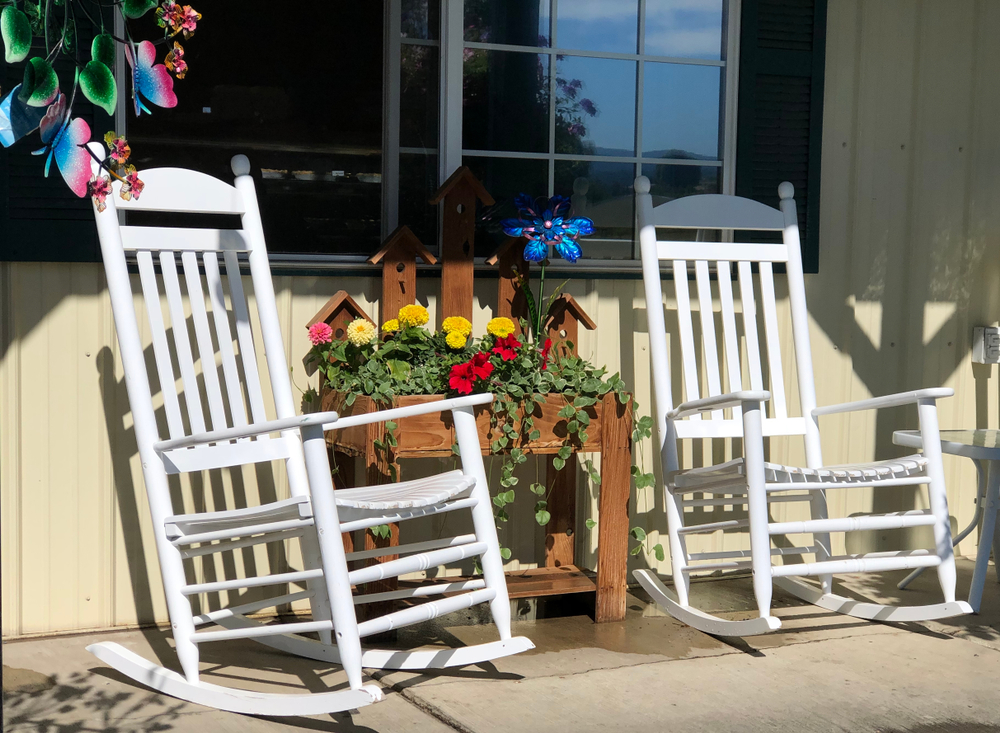 After a long pandemic winter, we're all a little anxious to enjoy the Great Outdoors. Being able to enjoy the sunshine and a warm breeze from the comfort of home is the ultimate luxury. The good news is that you don't have to spend a fortune to create a desirable outdoor living space. Here are some of the best ideas we've discovered for creating a spectacular outdoor room on a budget.
Make a cozy front porch
It doesn't take much to make your front porch cozy and inviting for relaxing on a warm summer's evening. Give your front door a fresh coat of paint in an eye-catching color, add a rocking chair or two, and finish with some fresh potted annuals or plants. Soon your neighbors will be stopping by for a glass of lemonade and a friendly chat.
Build a fire pit
Imagine making s'mores over a fire pit while you watch the stars at night. You don't have to spend a small fortune on a fire pit. You can easily assemble one yourself with pavers and fire bricks. Surround your fire pit with a few chairs and soon you'll be identifying all the constellations in the night sky.
Create a "room" with pavers
Pouring a concrete patio can be pricey. You can create the same effect with concrete pavers for just a fraction of the cost. Laying your own paver patio is fairly simple, and you can dramatically increase the amount of outdoor living space available to you. It's the perfect spot for a lounge chair or two! Or use an outdoor table for dining al fresco.
Hang string lights
It's really incredible how you can create space simply by adding a few lights. One of the best ways to turn a square of grass or patio into an outdoor room is to hang string lights across the space. You can choose from a wide variety of styles, including solar options if you don't have an outdoor electrical outlet.
Create lots of extra seating
Would you like to throw a party outside but fear you don't have enough seating for everyone? One of the best ways to quickly and affordably add seating outside is with floor pillows or poufs. Not only are they cute, but they are super comfortable and easy to store when not in use. They come in a huge range of styles and colors so you're sure to find pillows that match your decor.
Hang curtains
Would you like to create an outdoor room that has some privacy? One of the most affordable ways to do this is to simply hang curtains. The curtains will allow natural light to filter into your space but also keep the neighbor's prying eyes away.
Anchor your space with rugs
Finally, put a finishing touch on any outdoor room with a rug or two. Outdoor rugs come in a variety of sizes and colors and are extremely affordable. A rug can help to define a space and pull it together, and outdoor versions hold up well even in adverse weather.
Compliments of Virtual Results