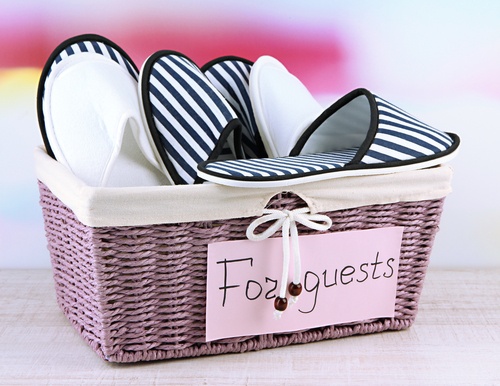 Did Santa bring you an early Christmas gift in the form of a new house? Congratulations! That's a wonderful way to end the year. If you're getting ready to host holiday guests in your new home, then it's time to make preparations so that they feel at home, too. Whether your guests are staying overnight or for several days, here's what you should do to make your home feel warm and welcoming.
Give them the essentials first
When your guests first arrive and are settling in, it's a good idea to acquaint them with all the basics. This allows them to relax and know that they won't need to bother you every time they need something. Share with them:
The name of your WiFi network and the password.
A spare key so that they don't have to time their outings with yours.
Some ideas of fun places to visit in your town.
How to use any of your smart home technology, like the lights, alarms, televisions and sound systems.
Any special instructions, such as where to find spare toilet paper or what kinds of treats they can give your pets.
Stock the kitchen
It wouldn't be the holidays without lots of delicious food. Part of being a good host is making it easy for guests to help themselves. Before guests arrive, stock the kitchen with a variety of snacks and drinks, taking into account any dietary restrictions your visitors may have. Since you and your guests may be getting up in the morning at different times, have breakfast options that don't need preparation. You should also show them how to use your coffee maker and where they can get drinking water when they need it.
Prep the guest quarters
Part of the fun of hosting overnight guests in your home is making the guest room into a little retreat. Be sure to cover the basics, including making the bed with fresh sheets, providing extra pillows and blankets, and making some room for their luggage and clothes. Provide a table next to the bed with a small light for reading at night, and make sure there is an outlet or two available so they can charge their devices. Set out some fun magazines or information about local attractions that they can read while they're getting ready for bed. Consider providing your guests with their own robes and slippers for the duration of their stay.
Don't forget the bathroom
Whether your guests have their own bathroom or they're sharing yours, you'll want to make it as nice for them as possible. Do a thorough cleaning of the bathroom before your guests arrive. Make sure there are plenty of washcloths and towels for every guest. Clear some shelf or counter space so they have room for their items. Stock your bathroom with special, travel-size toiletries they can use and have some extras available of things they may have forgotten, like toothbrushes or floss. And don't forget to have some first aid items on hand, like pain relievers and antacids. It is the holiday season, after all, and you want your guests to have some relief should they overindulge in their favorite foods and drinks.
Compliments of Virtual Results