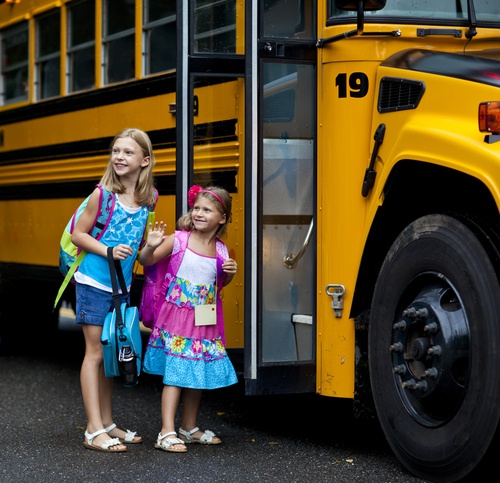 The first day of school is always a little tough on kids. It's doubly so when you're the new kid in town. If you moved to a new school district over the summer, then you may be wondering how to help your child transition into their new school. Here are some of the most helpful tips we've found when it comes to helping your child get settled in.
Stay in touch with friends
First of all, moving to a new school doesn't have to mean giving up all your old friends. In fact, it's the idea of moving away from friends that is often most difficult for kids. With our digital age, it's easier than ever to stay in touch with anyone, no matter how far away they live. Schedule regular FaceTime or Skype dates with your kid's friends from their old school to help make the transition easier. It will be helpful for them to have someone to talk to and support them on their new adventure.
Take a tour
Walking into a new school on the first day can be very intimidating. Help make it a little less so by scheduling a tour of the school before classes begin. Most schools are happy to accommodate these types of requests. Your child may even get the opportunity to meet their teacher and other school staff. This can certainly help to alleviate a little of the anxiety your child may be feeling about their new school.
Practice getting there
Another way to help your child get settled faster is to practice the route to school. Even if your child is going to take the bus or be driven to school, they should become familiar with how to get there and back. In the case of an emergency, they will be more confident if they know the way.
Plan a special first day
Do you remember what it's like to wake up on the first day of school with the jitters? It might help to plan a special breakfast for that morning to start the day on a positive note. You can also plan a special dinner for the first day so that your child has something to look forward to. Consider packing a special lunch that includes a note telling your child just how brave they are.
Become involved
There's no better way to get to know a new place than to get involved. This goes for both kids and parents. Kids can join special clubs at school or at a local community center to make new friends quickly. Parents can get involved by chaperoning field trips or volunteering for the PTA.
Give it time
Finally, it's important to remember that there will most likely be some bumps in the road. Even the most well adjusted kid may take some time to get used to a new school. Don't worry too much if your child's grades suffer in the beginning. Most kids need time to make new friends and get a feel for a new school. Soon enough, their new school will feel like home.
Courtesy of Virtual Results